Winery & Packing House Programs in Central Valley and Central Coast, CA

Winery Insurance programs, such as the WineryPak offered by Great American Insurance and Travelers Winery Insurance program can be custom fit for your winery operation, giving you the coverage's you need at an affordable price. We conduct a thorough, on-site inspection of every facet of your operation to help identify your wineries' exposures. We also offer safety education, loss prevention services and training programs such as responsible alcohol server training.
We know every winery is different. Differences in operations often create exposures unique to every enterprise. These differences are why we customize our winery insurance program to meet the individual needs of each and every winery we insure, utilizing the insurance products below:
General Liability and Umbrella Liability Coverage protects your operation from litigation arising from accidents on and off your property.
Property Coverage insures your equipment, wine stock, structure, etc.
Inland Marine Coverage insures your mobile equipment.
Business Income and Extra Expense covers your operation for loss of income should your operation encounter a catastrophic loss and your winery cannot operate normally.
Commercial Auto Insurance insures your cars, pickups, and large trucks for liability exposures, and insures your vehicles for comprehensive and collision coverage. Hired and non-owned auto coverage programs are available as well.
Liquor Liability insures your winery from litigation arising from clients who have been consuming alcohol at your establishment.
Business Income and Extra Expense gives you added protection from loss of income should your winery not be in operation for an extended time due to physical damage to your winery and tasting room and also includes the period of time to rebuild the damaged structure.
Both the WineryPak insurance program and the Travelers Winery Insurance program have worked hard to perfect the coverage's they offer while keeping their premiums competitive. Crafting fine wine is a never-ending pursuit of perfection. We truly appreciate and savor the fruits of your labor. This is one reason our agency takes such pride in offering the WineryPak and the Travelers Winey insurance programs to you and your winery operation.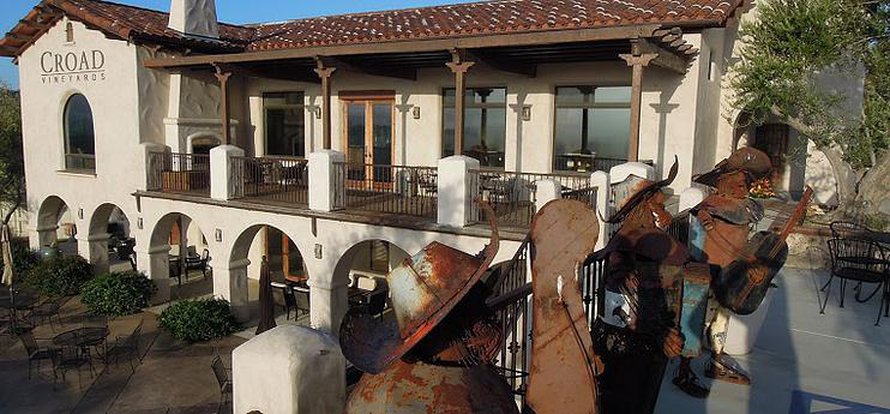 Beautiful view of Croad Vineyards Winery courtyard in Paso Robles, CA. Click Here to visit Croad Vineyards' website.